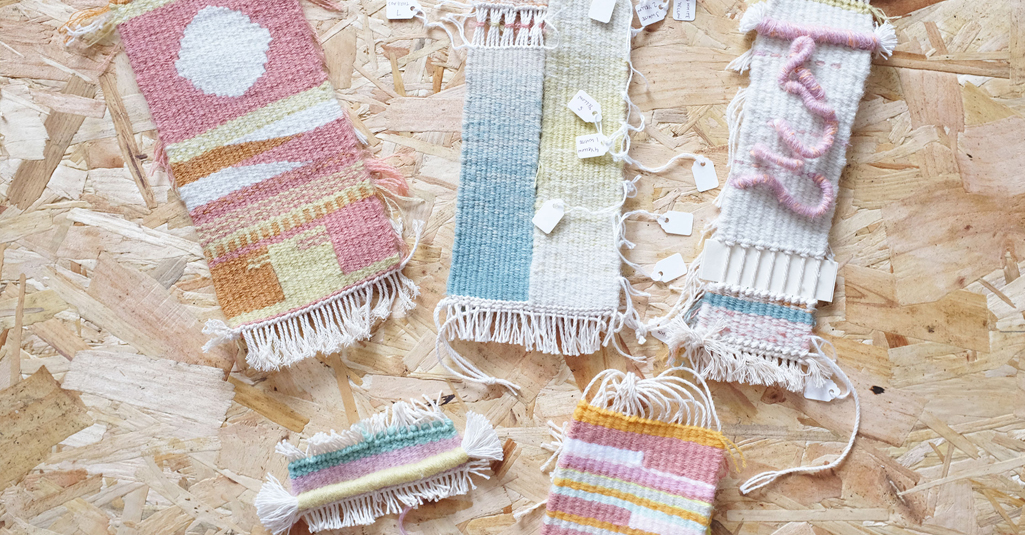 Peas and needles
♥ Who is behind Peas and Needles?
♥ Qui se cache derrière Peas and Needles ?
Just me, Lucy. I am a freelance graphic designer and illustrator and I get to work on all kinds of projects. But Peas and Needles is where I get my fulfilment, creating all sorts from Christmas pudding piñatas to buying nice pots for my many plants. I have recently been holding my own weaving workshops in and around Brighton, UK.
C'est juste moi, Lucy . Je suis graphiste et illustratrice indépendante, et j'ai la chance de travailler sur toute sorte de projets. Mais Peas and Needles est celui où je m'épanouis vraiment, de la création de Piñatas en forme de bûches de noël à l'achat de jolis pots pour mes nombreuses plantes. Récemment, j'ai tenu mes propres ateliers de tissage à Brighton et ses alentours, au Royaume-Uni.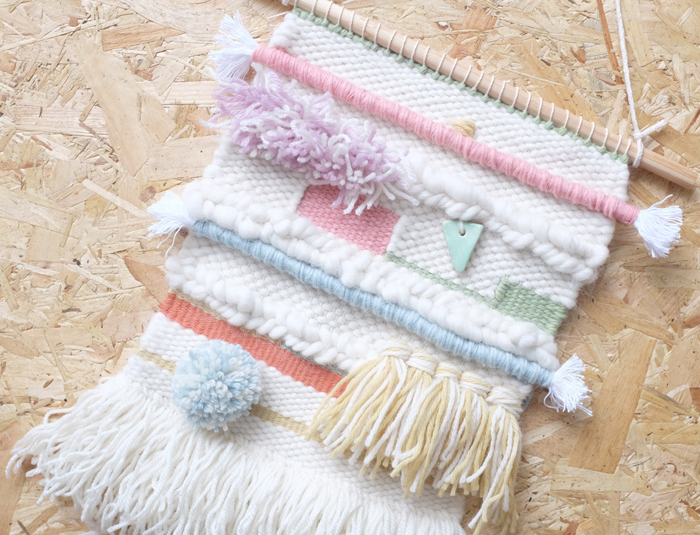 ♥ Why did you start blogging? What do you enjoy about it?
♥ Pourquoi as-tu commencé à bloguer ? Qu'est-ce qui te plait là-dedans ?
I started blogging when I finished university because I needed a place to document all the things I loved making and I didn't know what to do with. I enjoy the blogging community and the great people I have met through this piece of the internet. The enjoyment I get from seeing peoples reactions to my work encourages me all the time.
J'ai commencé mon blog quand j'ai terminé mes études, car j'avais besoin d'un endroit pour regrouper toutes les choses que j'aimais créer, et que je ne savais pas où placer. J'adore la communauté des blogueurs et les personnes géniales que j'ai pu y rencontrer. Le plaisir que j'ai à voir les lecteurs réagir à mon travail m'encourage toujours.
♥ How did your love for crafting start?
♥ Comment ta passion pour la création a-t-elle débutée ?
I got into crafting at a pretty young age. I have memories of my Grandma teaching me to knit when I was tiny and my Mum is always sewing something so their skills just got passed on. I am so grateful for this.
Je suis tombée dans le DIY très jeune. J'ai des souvenirs de ma grand-mère qui m'a appris à tricoter quand j'étais toute petite, et ma mère est toujours en train de coudre quelque chose, donc elles m'ont transmis leurs connaissances. Je leur en suis tellement reconnaissante.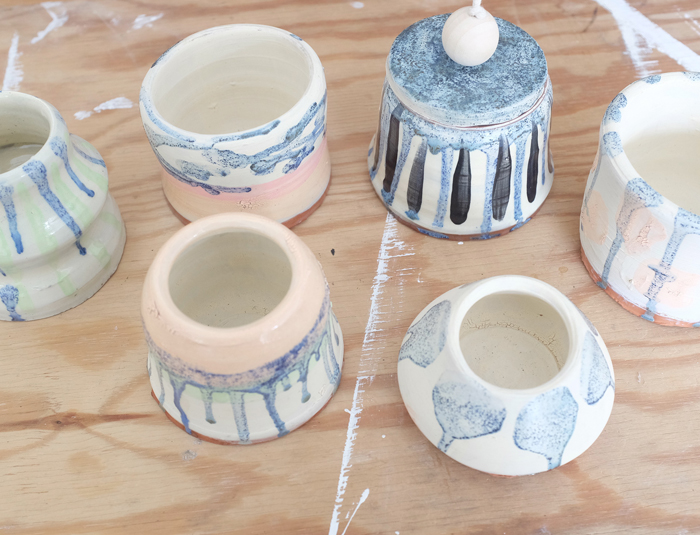 ♥ Is there something you have made that you are especially proud of, and if so, why?
♥ Y-a-t-il une création que tu as faite dont tu es particulièrement fière, et si oui, pourquoi ?
I think teaching myself to weave has been pretty great. Oh and some new pots I have made.
Je pense qu'apprendre le tissage par moi-même a été assez cool. Oh, et quelques pots que j'ai fait.
♥ Where do you look for inspiration?
♥ Où cherches-tu ton inspiration ?
I would say that my family are a big inspiration, everyone always has a project on, and of course Pinterest. I spend a lot of lunch breaks on Pinterest.
Je dirais que ma famille est une grande source d'inspiration, tout le monde a toujours un projet en cours, et bien sûr Pinterest. Je passe beaucoup de pauses déjeuner sur Pinterest.
♥ How would you describe your DIY style?
♥ Comment décrirais-tu ton style de créations?
My DIY style is quite simple but I love to play with colours and texture. Definitely my favourite part of the process, choosing the colours and the materials.
C'est un style assez simple, mais j'adore jouer avec les couleurs et les textures. Ma partie préférée dans le processus de création est définitivement le choix des couleurs et des matériaux.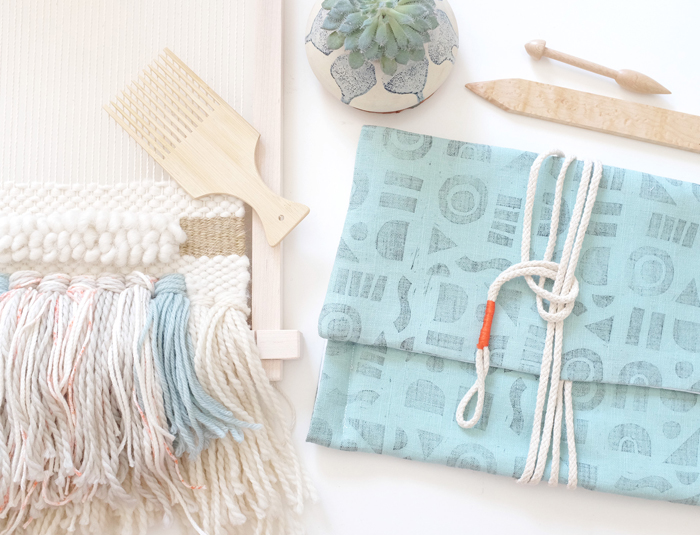 ♥ What advice would you give to someone who has just started to learn how to weave?
♥ Quel conseil donnerais-tu à quelqu'un qui commence tout juste à apprendre le tissage ?
Have patience. No one takes up weaving for instant results. Its a time consuming craft but the rewards at the end are so so great!
D'avoir de la patience. Personne ne commence le tissage et obtient des résultats immédiats. C'est une activité qui prend beaucoup de temps, mais la récompense à la fin est à la hauteur des efforts investis!
♥ You give weaving classes. Is there an anecdote from one of your workshops that you could share with us?
♥ Tu donnes des cours de tissage : Y-a-t-il une anecdote d'un de tes ateliers que tu pourrais partager avec nous ?
Unfortunately I can't think of anything right now, my weaving classes are normally really relaxed and calm. I really enjoy seeing strangers bond over a simple craft. There is always great conversations flowing, I especially love it when they encourage each other and help each other out.
Malheureusement aucune ne me vient à l'esprit pour le moment, mes ateliers sont d'habitude calmes et relax. J'aime vraiment beaucoup voir des personnes qui ne se connaissent pas tisser des liens lors d'une simple activité de DIY. Il y a toujours de super conversations, et j'apprécie beaucoup quand les participants s'encouragent et s'entraident.
 ♥ We know that some of your weaves were exhibited in Japan a while ago. How did that come about?
♥ On sait que certains de tes tissages ont été exposés au Japon. Comment sont-ils arrivés là ?
I wonderful lady from Japan had found my work through my online shop and contacted me asking if she could buy some of my weaves for an exhibition. We exchanged a few emails and then decided on making new weaves to send out there. I was so honoured to be asked!
Une charmante dame japonaise a découvert mon travail à travers ma boutique en ligne, et m'a contacté pour me demander si elle pouvait acheter certains de mes tissages pour une exposition. Nous avons échangé quelques mails puis avons décidé d'en créer de nouveaux pour l'occasion. J'étais si honorée par cette proposition !
♥ Tell us a bit more about your other craft projects.
♥ Dis-nous en un peu plus à propos de tes autres projets créatifs.
I am currently working on a window display which I am really excited about. I am looking to work more in prop making and this is the next step. And of course weaving, I have about 5 weaves on the go at the moment so need to start finishing them up.
Je suis en train de travailler sur un projet de vitrine pour lequel je suis vraiment excitée. J'aimerais aussi m'investir plus sur les créations d'accessoires à l'avenir. Et bien sûr, le tissage, j'en ai à peu près 5 de commencés en même temps, donc il faut que je m'y mette pour les terminer.
Enregistrer
le 11 juillet 2016
par Les épicières